product description
The pneumatic vacuum feeder uses compressed air to generate high vacuum through a
vacuum generator to realize the conveying of materials, without the need for a
mechanical vacuum pump. requirements, etc. The high vacuum generated by the
vacuum generator eliminates the layering phenomenon of the conveyed materials and
ensures the uniformity of the composition of the mixed materials. The preferred
equipment for automatic feeding of machinery.
working principle

When the compressed air is supplied to the vacuum generator, the vacuum generator
will generate negative pressure to form a vacuum airflow, and the material will be
sucked into the suction nozzle to form a material airflow, which will reach the silo of
the feeder through the suction pipe. The filter completely separates the material from
the air. When the material fills the silo, the controller will automatically cut off the air
source, the vacuum generator will stop working, and the silo door will automatically
open, and the material will fall into the hopper of the equipment. At the same time,
compressed air automatically cleans the filter through the pulse backflush valve. When
the time is up or the material level sensor sends out the feeding signal, the feeding
machine will be started automatically.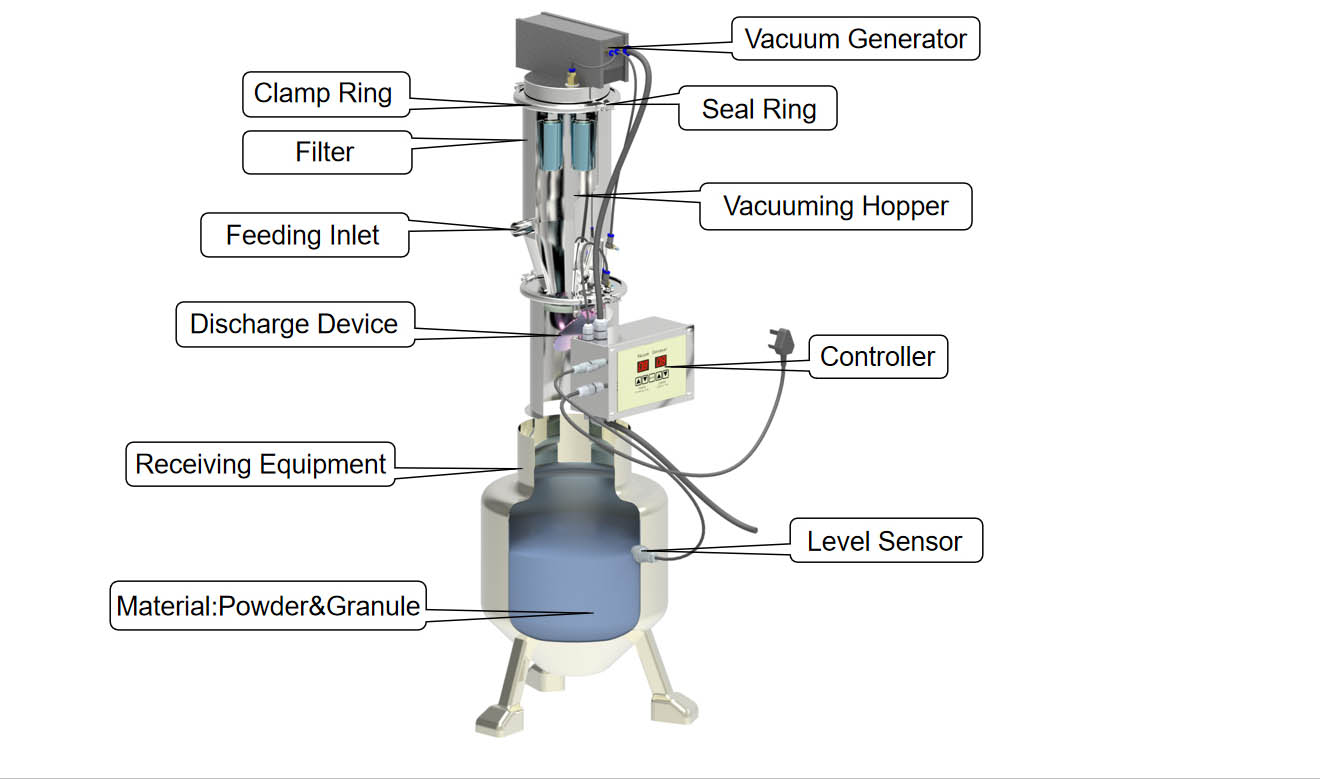 Features
Quick connector, easy to disassemble, small in size, simple in operation, and does not take up space
2. Powered by compressed air, no electricity, no electrical interference, no electrical hidden dangers
3. The conveyed material eliminates the phenomenon of stratification and ensures the identity of the material composition.
4. No vibration, low noise, equipped with automatic backflushing system, automatic cleaning
5. Airtight conveying, no dust leakage, no cross-contamination
Product details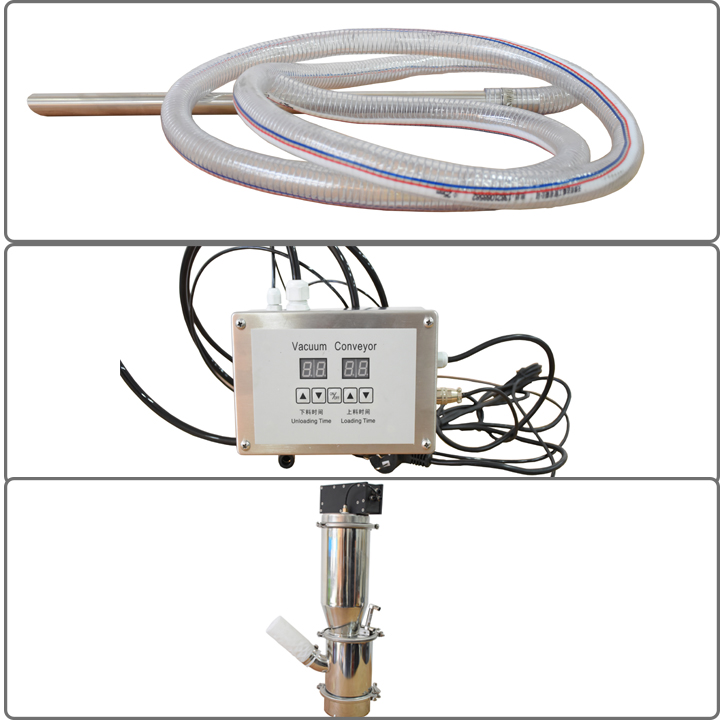 Equipment parameter
Model
Gas consumption
(M³/min)
Gas supply pressure
(Mpa)

Conveying energy(kg/h)

eg:flour


outline

dimension

Feeding

height

RA-QZKS-190
0.28
0.5-0.8
100KG-300K
φ190*800
1-5M
RA-QZKS-220
0.46
0.5-0.8
200KG-500KG
φ220*870
1-5M
RA-QZKS-290
1.29
0.5-0.8
500KG-1000KG
φ290*980
1-5M
RA-QZKS-420
2.7
0.5-0.8
1000KG-2000KG
φ420*1420
1-5M
RA-QZKS-600
3.8
0.5-0.8
1000KG-3000KG
φ600*1960
1-5M